Changpeng Zhao, a former McDonald's employee and CEO of Binance, the world's largest cryptocurrency exchange, is the world's richest crypto billionaire. His net worth is comparable to that of big tech tycoons such as Elon Musk, Jeff Bezos, Bill Gates, Mark Zuckerberg, Larry Ellison and others.
Binance CEO is worth $96 billion
According to a recent report by Bloomberg, CEO of Binance, Changpeng Zhao's fortune is $96 billion. Zhao's fortunes may be even greater, given that the wealth estimate excludes his personal crypto assets, which include Bitcoin and his company's token. In the past year, the value of the Binance coin, better known as BNB, has increased by nearly 1,300%.
BNB/USD Surged over 1,300% last year. Source: TradingView
In the past year, the price of BNB has risen at a faster rate than the price of Bitcoin, which is up about 63%, and Ethereum, which is up more than 420%. BNB reached a high of $675 in May last year before dropping to $261 by the end of the month.
Larry Ellison of Oracle was ranked as the 10th richest person on the list, with a net worth of $107 billion, followed by Gautam Adani of the Adani Group, who had a net worth of $78.6 billion. Binance was founded only four and a half years ago. When compared to other old establishments that were built decades ago, it is a very young company.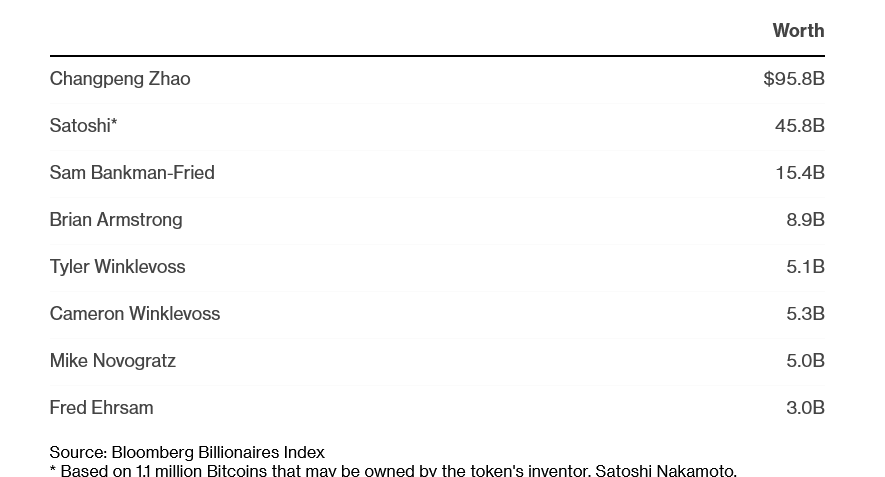 The Crypto Richest. Source: Bloomberg
Forbes estimated that Zhao's net worth was expected to be $1.9 billion in August 2021. However, Hurun Global Rich List 2021 estimates that Zhao's fortune was $8 billion, up 208% from the previous year. FTX founder Sam Bankman-Fried is ranked 128th in the Bloomberg Billionaires Index with a net worth of $15.4 billion, and Coinbase CEO Brian Armstrong is ranked 279th with a fortune of $8.9 billion.
Related article | CZ from Binance wants entrepreneurs to generate coins. Does his argument make sense?
Binance: One Man, Global Crypto Giant
Although the company was expelled from China, it is now under investigation by regulators around the world. The US Department of Justice and the Internal Revenue Service is examining whether Binance Holdings Ltd. , which is owned by Zhao, is used as a channel for money laundering and tax evasion.
Binance is the largest cryptocurrency exchange in the world, with daily cryptocurrency trading volume exceeding $100 billion on most days in 2021. Binance is by far the largest crypto exchange in terms of spot and futures markets.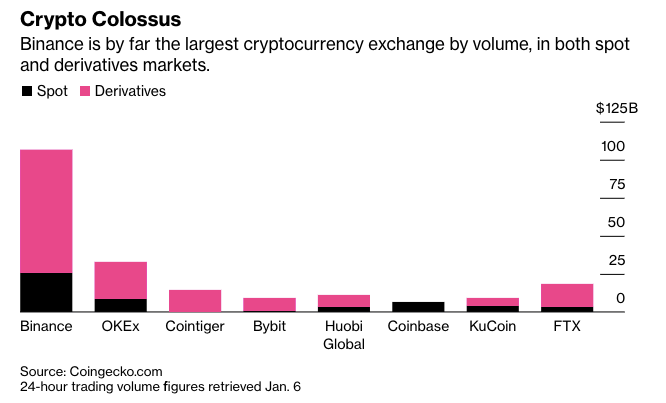 CZ's ongoing attempts to obtain operating licenses in various jurisdictions around the world are indicative of the company's success. Despite the regulatory challenges, Binance continues to collaborate and acquire new companies in order to remain a leader in the cryptocurrency trading sector.
Binance generated $20 billion in revenue in 2021, which is three times more than the $5 billion achieved by Coinbase. Binance has several accounts of whales that buy Bitcoin on a regular basis, as well as personal CZ crypto holdings.
According to Bloomberg, it appears that Binance is looking for a new home in the United Arab Emirates and Singapore. The CEO of Binance visited the royal family and hosted meals near the Burj Khalifa in Abu Dhabi. According to Bloomberg, the UAE royal family is keen to lure Binance to Abu Dhabi where it is developing its own crypto district.
Cryptocurrency exchange has just completed the acquisition of Swipe, a popular provider of crypto Visa cards with more than 70 million locations worldwide.
Related article | Binance's path to compliance continues with a list of rights for crypto users
Featured Image: Shutter shock | Charts by Bloomberg, and TradingView